Jaisalmer Car Rental
Jodhana Tours & Luxury car rental Provides You a best car hire & rental service in Jaisalmer, rajasthan with Memorable moments and hassle-free journey. With Jodhana Tours You dont get a trip, U are makes a relationship for ever for all Needs of Travel Services in rajasthan. We are offer you Car rental in Jaisalmer, Car hire service in Jaisalmer, car on rent/hire in Jaisalmer, taxi service in Jaisalmer, taxi for outstaion in Jaisalmer, Luxury car rental in Jaisalmer, wedding car rental in Jaisalmer, Luxury car hire service in Jaisalmer, rajasthan tour package etc. Our cab such as Toyota Etios, innova, Crysta, Fortuner, Mercedes-benz, BMW, Audi, Jaguar land rover/Range rover,Porsche, Limousine car, Hummer, Bentley and Rolls royce as well chauffeur drive.
Jaisalmer, the 'desert citadel', few cities can match the magnificence of this 'museum City'. Founded by Rao Jaisal in 1156 AD, on the advice of local Harmeet Eesul. Today the desert City blooms with intricately carved havelis, the old Jain temples. The landscape attracts many tourists to Jaisalmer. Jaisalmer is a former medieval trading center and a princely state in the western Indian state of Rajasthan, in the heart of the Thar Desert. Known as the "Golden City," it's distinguished by its yellow sandstone architecture. Dominating the skyline is Jaisalmer Fort, a sprawling hilltop citadel buttressed by 99 bastions. Behind its massive walls stand the ornate Maharaja's Palace and intricately carved Jain temples.
Fort, the golden fort (Sonar killa), built of Jurassic sandstone grows out of a Rock in an undulating sea of sand, the entire living area is well protected inside the ramparts of the fort. It houses palaces and old Jain temples dating back to 12th-15th century. It is approached from Ganesh Pol, Suraj Pol, Akshay Paul and Java Paul.
Manak chauk,is the main marketplace, bustling with activity one can walk into the narrow lens from here and the experience the art of silavats (stone carvers). The better known havelis are the Patwon ki haveli, the largest and most elaborate of all, the five storeyed haveli has extensive corridor and chambers. Nathmal Ji ki haveli, I was carved by two brothers and Salim Ji ki haveli, has the upper story in cantilever style supported by carved brackets. The other places to visit are gadisar lake, bada Bagh, Aakal(17kms), - about Fossil Park. Lodurva (16 kms), - a important Jain pilgrimage.
Sam, (45 kms), the camel safari in the sand dunes and the sunset point over here are unforgettable.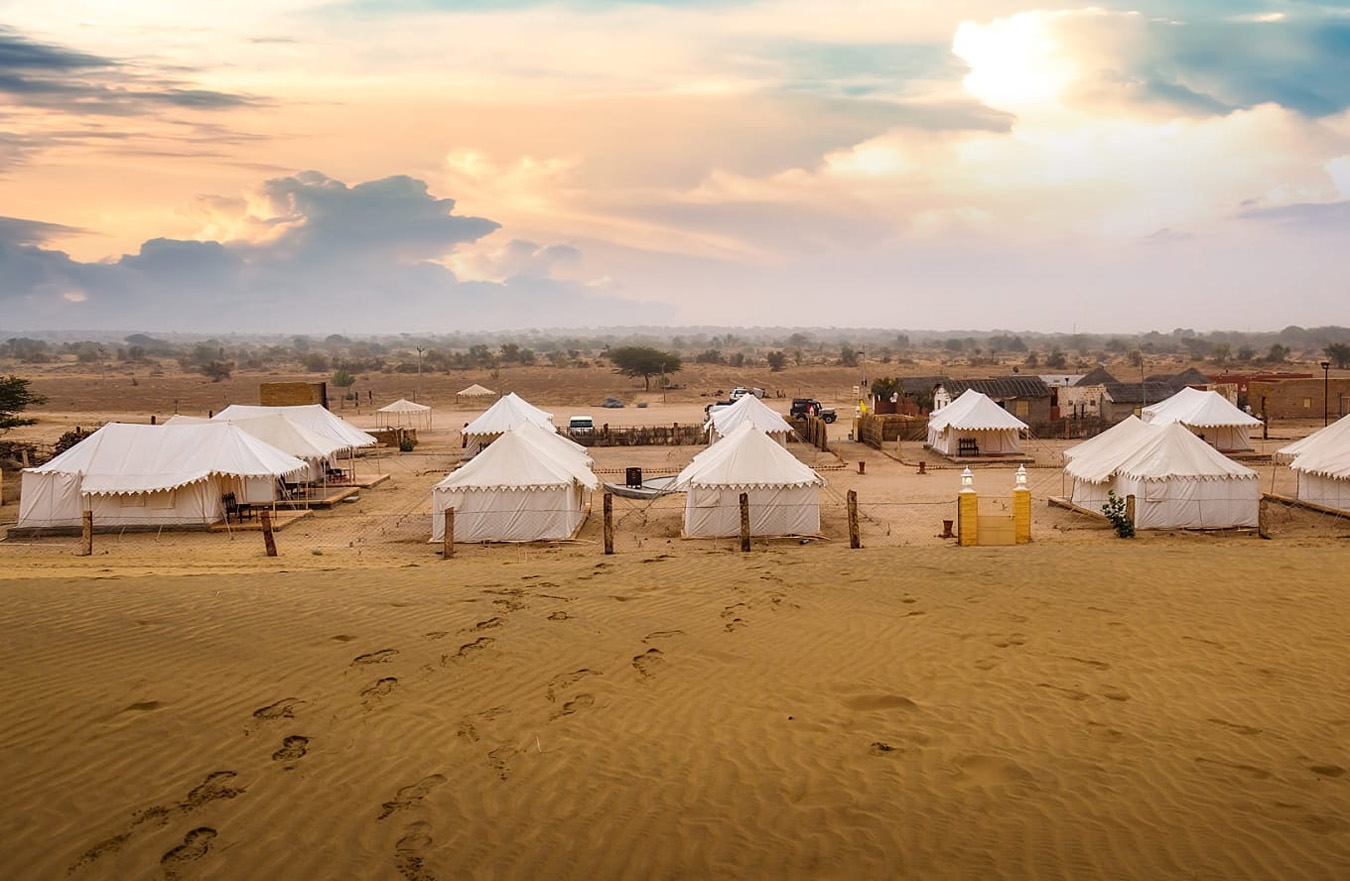 Book a Car Rental in Jaisalmer and enjoy a hassle free journey with Jodhana Tours & Luxury Car Rental Service.